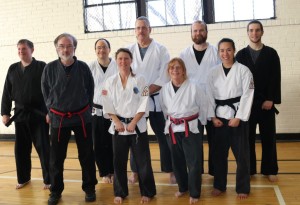 Kyoshi Amber Travsky opened the Laramie Kempo Karate Club in 1985.  We offer traditional martial arts instruction to both youth and adults, ages 6 and up.  Our goal is to provide affordable martial arts instruction in a relaxed but focused atmosphere.
Amber Travsky's instructor, Grand Master Stephen Blackburn, had taught in Laramie for a number of years and had established the Okinawa Kempo School. When he moved to Virginia, he passed on the club to another black belt but promoted Ms. Travsky to Shodan (1st dan black belt) before leaving. Ms. Travsky continued with the Okinawa Kempo Club until choosing to establish a separate dojo.
Laramie Kempo Karate Club Affiliations
Our dojo is affiliated, through Master Amber Travsky, with Lau Hau Kenpo. Soke James M. Lloyd (retired) is the founder of Lao Hau Kenpo.  In the summer of 2011, Mr. Lloyd turned over the reins of the organization to Grand Master and Soki Stephen Blackburn.
Lao Hau Kenpo, or tiger kenpo, has as its very basis a focus on good life values, rather than being centered around kicks and punches.
Kyoshi Amber Travsky has taught the martial arts classes for the University of Wyoming beginning in 1985. The Laramie Kempo Karate Club was started due to interest from students attending the UW classes.  Below are a couple of campus newspaper articles about the early years of the Laramie Kempo Club. Click on image to enlarge.